Despite that I haven't started myself any project yet, I'm a big fan of startup events. Startupbus, Entrepreneurship Challenge, Startup Weekend Taipei, they were all really amazing. Because of this, normally I wouldn't have thought twice about signing up for Startup Weekend 2. Too bad, that it wasn't normal situation, last weekend it was in the same time as Ignite Taipei #4, which I was co-organizing (and speaking in Chinese, oh the horror!), and wasn't sure if I can do the two things in the same time. My friend and team member from last time, Pandey, was pushing me quite a bit, and couldn't show fear or uncertainty – signed up anyway. Thought I will figure out what to do once we get there. As with many things in life, every issue worked out, probably even better than I could have planned, and I had a great (no matter how busy) weekend.
Beginning
It started on Friday, we all been checked in to Taipei 101, through tight security, changing elevators and lots of access cards to the 77th floor to Google Taiwan. It's a nice place, and a view to kill for, though I wonder if I could work there for a long time.
As at other such events, it started with snacks, exchanging of business cards, trying to gauge each other, who would be a good team mate, what to expect. There were some presentations, introduction, t-shirts and badges of course.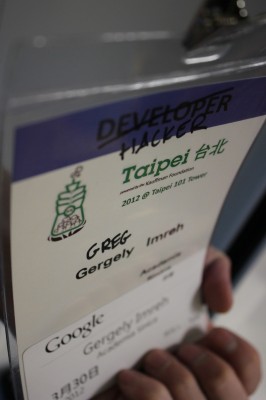 After about 2 hours the time came for pitching. From the 60 participants I think at least 20, maybe even more were sharing their ideas. The two language (English and Chinese) made it quite rough to sometimes understand what's going on, though the 30/90 second time limit for single/dual language pitches is pretty tight as well.
I usually decide by following my intuition, and for the first 10 or so, I haven't heard anything that ticked my interest really. Then there was one guy who was pitching a subscription based wine discovery service (something like sending people each month some new selection, with a guide, and help them understand those better while discovering new tastes). I thought for a moment of Cerealize (that took home 1st place at this year's StartupBus), Candy Japan (that just looks such a simple and brilliant idea, and seems to work extremely well), ShoeDazzle (subscription clothes)…… (Semi)-custom food and such service sounds just such a brilliant idea, and wine is very well suited for that. Also, recently I had more exposure to wine and wine tasting, just wanted to use this myself and would know plenty of other people who would too.
I got to say, I pretty much stopped listening to all the other pitches, already been planning this, because I felt this would so easily win the competition – and turning profit by Sunday. Went and talked to the guy, and at the idea voting stage (where people could select the most interesting pitches, so the 11 most voted one will be allowed to build a team) I was canvasing for that anyway. Should have had some feeling, when the idea guy was saying that "good that you are interested, but it's not sure you can be on the team" – sure, why not, no problem.
In the end the idea was selected, team started to build and we had 7 people altogether. I was really psyched. Since due to Taipei 101 regulations we had to get out of the building in 1 hour, got to work right away. Got the team members emails together, set up organization doc, the others were working on the name (Advintage), once they had one they liked the Facebook page was already set up, sent email to someone I know to know lots of wine-tasting people so we could get good info about what are the good ones to choose and maybe help to write the promotion material. Seen a couple of mentors idling around, and went to talk to them a little before they they kicked us out – running the idea with them, get some feedback, get pretty much a first customer, very interesting info and some thoughts I haven't considered before.
5 minutes before we had to get out the building, I got back to the team and started to update the idea guy:
"Hey, talked to the mentors and just a quick summary, they said (this and that)".

"Ah, wait. Wait. Greg, we don't have much synergy here."

"What are you talking about?"

"While everyone was working on the things, you didn't help just went and talked to other people before asking us that we should do that."

"Come on, we have very short time, we had to talk to them to get feedback. You don't need me to choose a name …."

"I'm sorry. We don't have much synergy here. I don't want you on the team."

"Okay, I understand."
So this is the story of me being fired for the first time. It's interesting feeling, quite illuminating as well, I haven't felt a lot of feelings like that before. So 5 minutes after I talked to the mentors, run into them again, and when they told me a couple of things, my only answer could be – sorry, I'm not on that team anymore. "What? They fired you?" "What, they fired him, why?" "Because he did something without asking permission." "You are probably better off."
Thus instead of going home to work on the project more, I carried on with the preparation for Ignite the next day. Oh, I needed that.
Drimmit
In the evening I was thinking what other team to join – since I basically didn't hear anyone else's pitch, but there was Pandey and his group where I knew a couple of them, maybe will join that team if they want me. For a short while I was thinking of getting the teams try to woo me, but that was just silly. I realized that I was doing the "I'm here to win not to make friends" routine that I previously laughed a lot at, so instead just followed my heart and went with the team where I wanted to know the people more.
And how well that was – I learned a lot of interesting things with them that I wouldn't have otherwise. So here it is, Drimmit: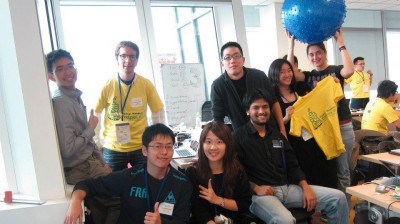 It's more or less a site to collaboratively help you achieve your dreams, give advice to each other, and find and manage milestones along the way to give you a clearer path and higher probablity of succes.
It was weird not to be the tech lead, but good to let some things go. Instead of that I was trying to take care of the front-end, while half the team was working on the model and product pitch for the finals.
So, some lessons learned along the way:
We spent a lot of time trying to figure out the model, everything had some problem, nothing was completely logical. Pretty much more than a day went buy, where we had ideas how things would look, what's the flow, but then had to scrap that. One cannot really develop like that.
I overestimated my front-end skills, though it's usually quite tough to turn a Photoshop mock-up into a working site. Also had to get used to the terminology that when someone asked: "Do we have this page" and the team replied "It's done!" it meant there's a picture of it, not at all that it works.
For a while I was annoyed by this, but it also gave the spark: for the pitch we don't have to code down everything, just make a show-and-click: things look like they work, but the functionality doesn't have to be created. That means we could just scrap (or rather: abandon) the work so far (that's about Sunday noon, for 5pm start of the finals) and concentrate on looking good. This gave us a demo better than others
Learned about coding some more, though I haven't had to do much this time. One lesson is to practice a lot beforehand. Another is to prepare some tools to make development easier. And of course: do whatever it takes.
Because I didn't do much and I was too cocky in the beginning, I hereby revoke my "hacker" badge until the next time I build something. No problem, I have just the project on my mind I want to do next.
One of the strength I seem to have is asking questions, and that way at least I could help. It can be pretty annoying, to also very useful, I could see the gaps in thinking, asking the details, figuring out where we are not good yet. Does that mean that I would be a better mentor or consultant than creator?
It's fun to work with people I know and like, the team is very very important. Also important not to take anything personally, too much stress of the 54 hours drives people to the edge.
If I were to start a team outside of such events, I would probably do it with 2-3 people instead of 6-7, it's easier to get on the same page. On the other hand, much fewer ideas as well, so it might not be a good call.
Would have to think how to replicate the pressure of a Startup Weekend outside of it. Amazing how much one can get done when he/she has to.
The guys were practicing a lot our pitch and here's the result:
Also, there's a rehearsal video, also good to see the progress (and the tension) people had before we went in.
The results of the finals
Advintage won – which is pretty much making me happy, because I predicted that. It helps that they had about 50x the revenue over the weekend (30 subscriptions at 2000NT) than any other team. They have won on the product, clearly. On the other hand, it also made me happy that I realized I still wouldn't like to work for the guy. "Work for", that was my impression, he wanted employees, instead of co-founders out of this weekend. Fair enough.
On the other hand, Drimmit came 2nd. We clearly won on presentation, the energy, the preparation, the polish (as much as you can get in a day) worked. We had the team to pull it off. I was very proud of them, and glad to help no matter how much. Also, the presentation worked since many other people keep asking whether we'll continue working on it, because they'd like to use such a service.
It was a great time and let's see where does it take us later. I was wrong enough times and right enough time this weekend to learn plenty.
Future
Among the most inspiring picture, though, came from another team, posting (literally) their first revenue, regardless of the value: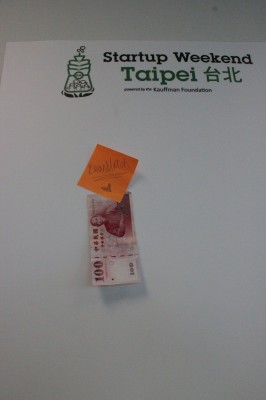 Also, I'm thinking that next time I would try to pitch as well, been developing enough, now it's time to see if I could sell my ideas to others, whether I can get them excited about something. You know, it's not the ideator but the first follower that counts.
The rest of the pictures are in this album, click to see, CC-BY to reuse if liked.