I really should have started to write this up about two weeks ago, just after StartupWeekend Taipei really happened. Better late than never (if there was ever a good excuse then this is), so taking some time out on this typhoon weekend, here's my experience of that good 54 hours.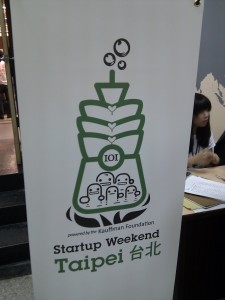 Start
After StartupBus and the Taiwan Enterpreneurship Challenge, I cannot deny that I have a lot of fun at these kinds of events. So I signed up for Startup Weekend Taipei quite a long time ago, especially since I had a free StartupWeekend voucher from Microsoft BizSpark.
I kept recommending the event to more and more people and it seems there were quite a few of my friends who wanted to come but couldn't because it was all sold out. "Sold out" in this case is 150 participants. That's probably about the same number of people as on all the Busses, though this time stationary and all in one place. I wasn't sure what mixture of people will come, just that it will be quite different as Taiwan still seems to have less of a hacker culture.
It turned out that more than 2/3 of the people were Taiwanese and much smaller proportion of foreigners than I expected. This is great – for Taiwan. For me it was a bit of a roadblock.
25 people went up to the stage to pitch their ideas in the hope of getting a team. Of those, only 5 were in English. After the pitching everyone got their three pieces of voting post-it notes and could mark which ideas they liked the most. Based on the votes, only the most popular 12 pitches were kept and only those people could carry on their ideas. Well, since Taiwanese were really not voting for ideas pitched in English, there were in the end 2 ideas that I could join up with… This time it worked out well (oops, is this a spoiler?), but next time probably the organizers should look at this whether the procedure of setting up teams worked or not.
12 teams for 150 people also meant that every team was huge… At the Bus our team had 8 people and I felt it was pretty big. Certainly if I want to start my own company I would probably get going with less then that.
Actually, that large team count is good for getting things done once we agreed on what's to be done, but it's pretty bad for reaching such agreement.
Our team had 7 people: 3 coders, 1 designer, 3 marketing/business planning. One (two) sentence pitch: Restaurant search engine for menu items. Tell us what you wanna eat, we show you where are the restaurants serving that in the neighbourhood.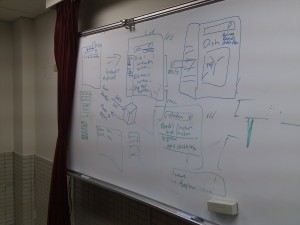 Simple idea, but with our team we had quite a bit of back and forth when discussing the focus of execution. I tend to get very involved once I'm sold on an idea, maybe a little bit too involved. After a bit of discussion I had the role of back-end designer, creating the infrastructure on which all of the user-facing services can be built. I choose that one, because I felt that's the part of the architecture where I can add the most in terms of making something that other people can rely on and can build on relatively easily. I do feel that without a good back-end no amount a front-end glitter can save things….
Of course in part I chose this role because on the Bus I worked with a great team who taught me a lot about that and wanted to try myself out.
Exercise for the first evening (Friday night): A long, long discussion about a name. Next up is getting some ideas of the feature set then simplify, cut, reduce and then reduce some more. It's great, I recommend it to everyone. I think I was a bit too combative at that time (sorry, Dobes!), but at least I realized that and tone back quite a bit. Since at 11pm they closed the venue we went home till the morning. I wanted to get something little done by that time so I can show that off for the team. Of course I slept like a log instead.
Next morning (Saturday) I woke up quite early, earlier than usually on a weekday. That's a very good sign. At the venue they already had some breakfast prepared for everyone. I was too nervous and excited to eat in the beginning. Then when I tried my bagel an hour later, it was amazing! Run back to the table to get another one, but obviously everyone is enjoyed them a lot and were less nervous. All of them were grabbed up.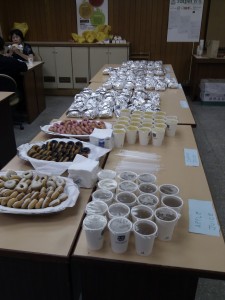 After some more discussion we got working on an actual thing. The technology used:
Most of the day was spent on setting up an API, working out data lookup with the chosen database and structure, making a data input interface, some helper pages, and fixing a lot of bugs. Saturday evening we had basically everything down conceptually that we needed to have working. Going home at night again was a bit of bug fixing (let's call it The Time of Duh).
Home stretch
Sunday morning getting up pretty early again, I love this kind of inspired work when I just cannot stop myself. All the way to the venue I was thinking how to use this experience to improve my day job (though it is pretty inspired already, so I guess I'm lucky).
Most of the day was spent by fixing more and more bugs, getting the front-end right (not me, fortunately, I have no real sense of design), getting some real data, real restaurants and menus into the database, figuring out and polishing the pitch, working on the feedback from the surveys our marketing people were doing since Friday evening, do some Facebook page based hyping….. This sort of StartupWeekend stuff.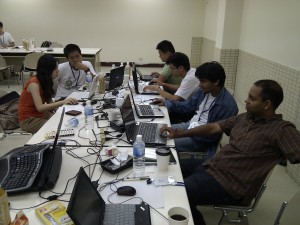 I was hoping that we could get an Android app in the end as well, but the person who was working on that I felt over-complicated the thing. Yeah, because I don't know how much the others must have thought that I'm over-complicating my job… Anyway, I haven't been writing Android code since the Bus, but actually in about 2.5 hours there it was, an map interface showing real data from our real database. Slap on a search bar and you are golden. There wasn't any time for finishing that up, but still I was satisfied – it was possible because of a good back-end. (okay, enough of this patting myself on the back, dude)
Then it was finally time to pitch. The panel of judges was impressive. Real investors and business people from Taiwan, US and China, about a dozen of them, maybe more. All very experienced people.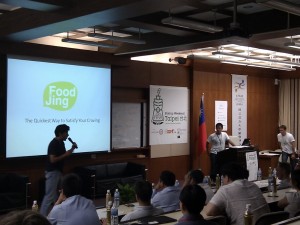 Our presentation was quite good, because the team really prepared for the questions, really answered the concerns an investor would have and covered all our bases. Many of the other presentations were more emphasizing "fun", had "pie in the sky" models, or had something that some of the judges already gave them feedback in the development phase and they didn't fix it. It's probably mostly down to experience. I haven't pitched before, so I guess I'm not the most reliable source of useful information about this.
Anyway, the punchline: we got first prize.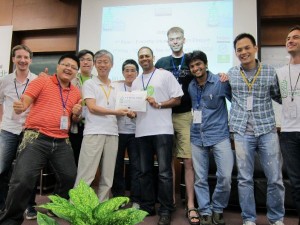 Of course it feels pretty good. Some non-monetary things (mostly services by the sponsors), but there was a last minute donation of NT$60.000 (about US$2000) from the judges. That comes handy, my share will run that server I'm renting and pay for some domain names for future projects….
Postscript
The event has been covered on TechOrange and Penn-Olson So two people from the team will actually continue Foodjing. They are based in a different city, and there are some other, administrative issues why I wouldn't be able to take part in that, but it's all fine. When they get it done, I'm sure I'll be an user. And I have plenty of lessons to take home:
I really can get excited about a lot of different ideas. Most ideas do have a useful core that can be developed, so on an event like this, the idea that one chooses almost makes no difference. Choose the team instead of the pitch.
One weekend is perfectly fine to get something done. In the end we had a working (albeit ugly) prototype. If it was done now, can be done any time. Got to use my weekends better.
Talk more to people who can and willing to help. Had a lot of mentors who had great feedback on everything.
This is not a hackathon. I took it as it was one, and my goal was getting something working. Talking to some of the organizers it took me by surprise that this is really business and by real I mean real. That these things we are making are as real as it gets. I was just thinking in terms of fun, have to take things more seriously, but without losing the ability of having a good time.
This time we succeeded. This cannot make me risk-averse that I don't try anything unless I'm sure to win, cannot go to the next StartupWeekend with the mindset that I have to win again.
There will always be more ideas. For every one of them that fails, or succeeds but goes on without me, there will be 10 more that can be taken up. So where's my next 10?
All in all, it was a great time and looking forward to the next event like this.