If there was a place I'd like to be now…. then it would probably be actually 11 different places. It's that part of the year, that crazy and incredible people get on a some buses, travel across the US to the SXSW festival, while building companies. Altogether dozens of them. While riding freakin' buses…. I know, I can still hardly get over my own experience last year, though I don't want to get over it, I want to cultivate, nurture and expand that feeling. Pretty much the whole last year was about that expansion, and it just continues to motivate me.
Fortunately I still keep in touch with some of the people from there, and when they are on the way right now as I write this, I cannot help but show my affiliations.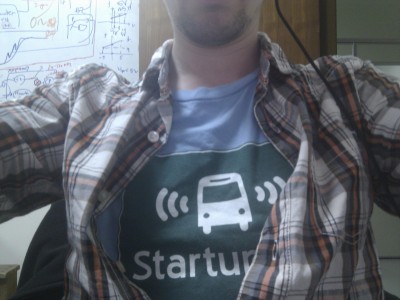 I'm really glad that I could contribute something as well. One of the core features of their site is the ability to see where everyone is right now. Cheer all the way as they fight through several states towards their destination, how they converge onto Austin, Texas in the end. For this to work, there has to be some way to track those buses. And as it is the tradition – and inevitable if you have a pile of the best hackers together – everything is pretty much custom built. The site, the virtual stock market game, the map – and the tracking app as well. This last thing is made by me, after a few evenings back last year while hanging out in San Francisco before getting on bus. I can't believe that I even had time for sight-seeing while doing this…. Anyway, it worked like a charm on 6 buses, and I was quite satisfied. Pretty surprised, but also satisfied. It was great, especially because if something, then I didn't want to let down this guy – one the craziest and most kick-ass person I had a chance to know.
Then again in the winter there was StartupBus Europe, which worked out fine, beautiful trace on the map from the Netherlands, through Scandinavia, then back to the continent all the way to Paris.
For this year's event, I wanted to change it a bit around, make it more independent from me – and a bit less hackish. I gave up on improving the looks, but the functionality should be better.
Too bad that this time I wasn't there in SF, working together with the team, inspiring and motivating each other. This made everything much slower for me, and much more "normal", in the bad sense of the word. In the end I had a new version that worked, and was kinda okay, but wasn't as well tested as I hoped to.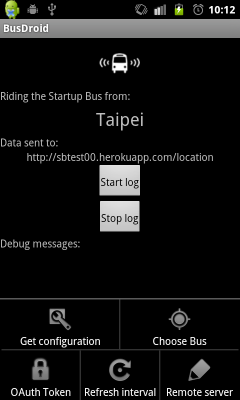 Of course bits are rotting when they are not developed, and one year in Android world is more than I've expected. Too bad that many of the problems came to light when the buses were about to head off. Turns out that aiming for the oldest version of Android to cover all different versions is not necessarily the right thing to do. I don't need anything fancy, but the APIs changed a bit, some things got depreciated, and looks like some phones can't run my very simple app. After all this craziness dies down, will have to investigate and figure out what went wrong.
In the meantime, fortunately 10 out of 11 traces are on the map, there's only Las Vegas missing last time I've checked, and not sure what happened to them. I don't like unsolved mysteries, especially when it's my job to get them solved.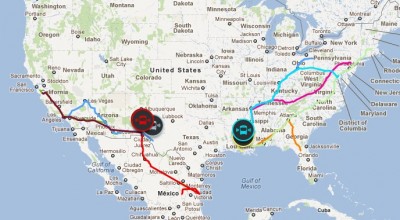 Let's see if I can get a seat next year again. And also see if that year in the meantime is long enough to figure out some better solution. Will likely need to do things very differently as I was, will likely have to rewrite the whole app onto new foundations, and make it work on iPhones or iPads (do those actually have GPS in them? I actually don't have any iProducts…), and more reliably work in general. Feels a little sucky, that I've let some people down that things didn't work better. That's what startups' life is a little bit as well.
Now let's pivot, and back to doing awesome.