I'm reminded time and time again, that the best things I do come from fun and passion, not mere sweat and grinding teeth.
Recently I read about a project called The Startup Bus. It's a bunch of strangers getting on a bus going from A to B, for 48 hours, in which time they build a startup company from 0 to launch. It looked very intriguing and I applied even if I couldn't imagine going there (after all, it's in the US and I'm in Taiwan). Wrote up an introduction that was… how shall I put it? Ordinary? Bland? (maybe even that's generous). Then I started to hear from more and more people on Twitter that they got on it and I did as most people do when they cannot get something: started to want it :) On the other hand, looking at who got on I had no hope that I'd be selected, none at all.  So instead of revising the application I had, just gave it up…. but also just wrote another one application. In true nerdy fashion in a programming language. And made it actually run. Just for fun. It is not perfect (can see it on Github) and actually I cannot imagine that no-one else thought of it… When I was satisfied, just sent it in, closed the browser and walked out. Not even an hour passed, I got my invitation…
So I'm heading off to San Francisco this weekend to mingle with a bunch of very clever people, do a lot of programming, most likely things I've never tried or even imagined trying, go all the way to Austin, when maybe could pitch to possible investors. What will come out of all this, I have no idea. But certainly glad I "didn't care" for long enough that creativity (no matter how shallow) started to flow.
For me this whole story is brings up a poem by Dallas Clayton:
Good/Bad

How a bad idea starts:
"That looks easy… I could do that."
How a good idea starts:
"That looks fun… I should do that."
I like this way of thinking a lot, I even got it on a bag to remind me. :)
Now all the preparation is on the way, I'm helping by making an Android app to be able to track the buses en route. I week ago I didn't know anything about Android apps. But there you go, it's working, more or less. :P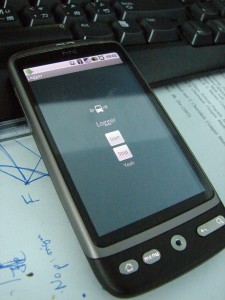 … and soon I'm hoping to use the power of not caring for many other things in life.