I sure felt different yesterday morning waiting for my turn to give my 30 minutes talk, but in retrospect I'm really glad to have been invited to the Boost Open Source Hardware Movement event, organized by the CTIMES magazine over here in Taiwan. It was the second time try, after Typhoon Soulik cancelled the original event.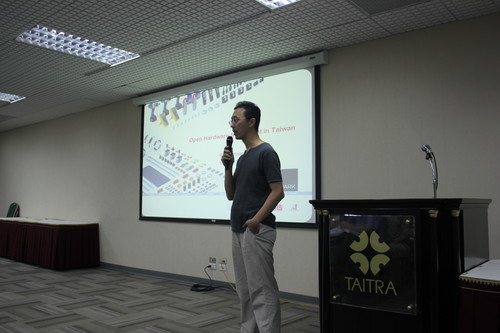 There were 8 speakers scheduled from different companies and background: RS Components, Via, Broadcom, Motoduino, TMI Holding…. and me from Taipei Hackerspace. First I was wondering how do I fit in there, and maybe my talk *was* out of place a bit. Most talks were in Chinese so I could grasp only basic stuff from them, although the slides helped – most people made slides following the "slides are my notes" style, which is not my style, but was welcome this time. It was also great to see seasoned speakers like Richard from Via, and Lucas from TMI giving fun (and informative!) talks.
I did feel I'm in the right company, though. Open Source Hardware is becoming more and more of my focus – or maybe I'm just realizing it now that what I do is called such. Part of the audience were industry professionals and part enthusiastic hobbyists & students, and I had some great chat in the breaks with both kind of people.
I heard about the National Science Fair here (what? I got to check that out!), and how much interesting work people do with interactive hardware and elementary/high school kids. There is waaaay more going on that I can imagine, and there's a lot more potential to tap into.
Had a chance to gather some industry experience too. Naren from Broadcom, who was responsible for getting Raspberry Pi into production was telling the story how they were expecting only 10,000 orders altogether and got 350,000 on the first day (sold 1.8 million to date), so they had to scramble an entire new supply chain. Thought that came to me was that maybe that's one of the biggest value of  Kickstarter/Indiegogo is to be able to get an order of magnitude estimate of the demand.
Also heard about Via's experience in pursuing new design and materials with their APC platform (such as using paper for housing), and interacting with their community. Heard a lot from RS Components how they are building tools for their community, and building the community itself. The demo was fought with technical difficulties (first rule of presenting is not to assume a working/fast internet connection), but it was inspiring nonetheless, and gave me some big (and difficult) ideas for my project: have to see if there's any good community for scientific/laboratory electronics and hardware building, and if there isn't then build one.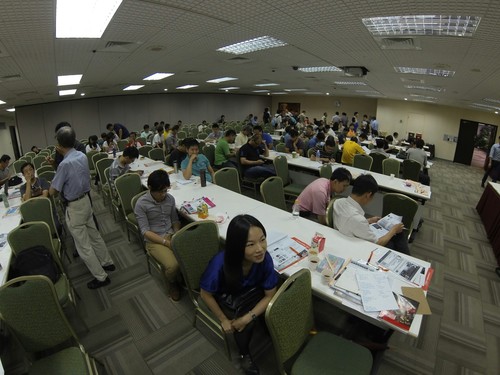 One of my favorite part in these events though to meet friends' friends. This time was no exception, even if there was too little time to talk, I left with quite a few people in mind who I will need to contact soon, because they are doing something awesome and connected to my area of interest, either in hardware or in startups. This is one reason I'm trying to be really generous with my time and making introductions between people who I recon would hit it off well: I was the recepient of that so many times that I got to give back too.
My talk
I was scheduled in the middle of the afternoon just before tea break, and I was one of two people who used English for their talk (out of the 8 speakers). I was more nervous
I've uploaded the slides used for the talk in advance as well, so now it's all out in the open.
My favorite part writing this talk was probably the attempt to summarize the philosophy and values of the maker movement, in a way that would inspire others. Some bits:
Don't accept crappy – everything can be changed and improved upon.
Aim for collaborative creation. Celebrate the weird. Don't mock.
Do and then share the results for everyone to learn from it.
For things to happen, you have to show up. Don't wait for someone else to start, build up and inner motivation
Everyone's values are different, a 'space is often a different canvas for everyone.
So far the feedback I got about the talk is that I should have mentioned the projects people were working on in the 'space, and upcoming events. That would have made a better ending for sure, and I had an extra 5 minutes or so to do that. Definitely going to emphasize the practical aspect next time.
Another thing I noticed listening to (a bit of) the video is that I need to use much less "ehm" and "ahm"… I certainly don't remember using any, and consciously trying to avoid it in my talks in the recent years, I guess I need to listen more carefully (and prepare better).
Any more suggestions? What else wasn't good? Bring it on, I want to become better at this.
More about the Taipei Hackerspace is on the mailing list, which is open for everyone to sign up, ask questions, show their projects, and hear more about what's up.