Out of interest, I recently switched this site to SPDY, party because I like to try out new things, and partly because I would want to make things be better and faster. So far it's a mixed experience, with some puzzling changes, that I cannot make heads or tails of.
The first step for the switch was bringing everything onto HTTPS, which I have done with a free SSL certificate from StartSSL. Redirected everything from the HTTP to the secure connection, with the 301 http code so I thought Google will be able to follow it well and replace the addresses in their index. Then enabled the SPDY module in Nginx, and checking the result looked like I was in business.
Some time has passed, and a scary graph started to manifest itself in Google Analytics:

Right after I have made the changes, my impression count on Google dropped like a brick, now being exactly 0. That's not really the change I wanted to see. Digging more into it, though, it looks like I still have a constant stream of visitors from Google Search:

How can I have zero impressions, but still a half a dozen visitors from Search? The results in the Webmaster Tools mirror things: dropping impression count, no crawl errors, same or even better indexed count, and relatively good stats: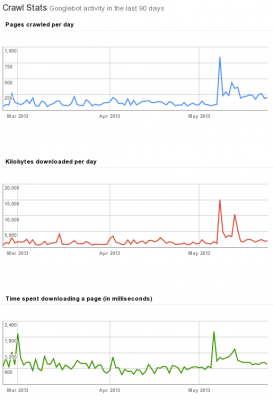 The crawl seemed to have gotten a bit slower (the bottom plot of the three), but more consistent.
I wonder what could be the change, does the impression count depend on the method of access (http/https)? Or did I made some braking changes? If so, then why's the conflicting information?
Being a scientist, my main concern is not actually the raw value of any visitor count, but understanding the reactions to my actions, and consistency of the "experimental results".  I wonder what kind of technique I could use to debug all this?
Update 2013/May/28: 
Following some recommendations from the comments, it looks like that the https:// version of my URL has to added to the Webmaster Tools separately. Now there's a http://gergely.imreh.net and a https://gergely.imreh.net section as well. In the latter section, I can see that there are some impressions reported. Some weird things still exist: the sum of impressions from both is less than how many visitors I reportedly get from Google Search; the crawl stats is shared between the two sections (ie. the https version reports a lot of crawl stats even from the time there wasn't https enabled), while most other data is separate for the two sections (e.g. impression, search queries, sitemaps). Still probably this is on the right path.

After the Webmaster Tools changes, I have just switched the Google Analytics association from one WMT property to the other. Hopefully this will freak me out less, though it will likely take some days to see the changes in the result.