I've just recently travelled from Taiwan to Japan on a short trip to check out the cherry blossoms of Kyoto. While it was fun, I did realize that there are a lot of technological details I'm keeping track of, that take up significant mental bandwidth. Technology is helpful even if it takes effort to keep it running. This is a writeup of a non-exhaustive, arbitrarily ordered list of tech I used on the trip, and the way I used them.
Internet connectivity
One of the first concern is how do I get online on the go? There seem to be a bunch of companies providing mobile hotspot rental. The one I wanted to use originally is in Taiwan, and tried to arrange it too late (needs ~5 days in advance). Instead I found another company online called Japan Wireless. They can send a wireless hotspot or pre-paid 3G card to a hotel, or to an airport to be picked up. Since the hotspot I wanted to get was out of stock for the first half of the trip, I went with a 3G card and wanted to use an old Android phone to act like the hotspot.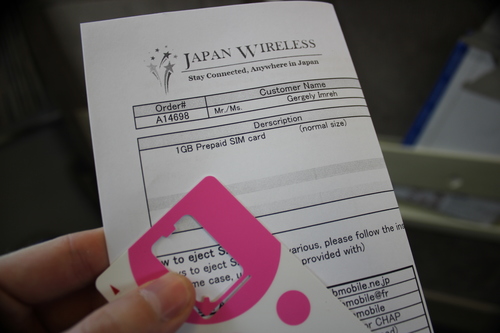 Picking up the card at Kansai Airport was very straightforward. My Android phone worked much less. Might be getting "too old", sometimes it couldn't start the wireless sharing at all, though when it worked it was good for a while. It is also worth enabling "network traffic monitoring" and appropriate warning levels. The pre-paid card had 1G traffic included. Definitely does not recommend running a Play Store update while connected, apps can easily take up 30-50Mb, and 50% of your traffic allowance is gone before you can say "Ice Cream Sandwich"…
In the end the hotel had pretty good wifi, on the road the environment was more interesting than things online, and haven't run into any emergency that needed online connection. I guess this kind of rental is good insurance, but can conceivably get by without it.
Navigation
One thing is going somewhere, and another is know where's one going. A lot of plans were made in Google Map My Places. Restaurants to try, shrines to visit, shops to examine… Not wanting to rely on constant internet connection, and because My Places in Google Maps for Android is very much not user friendly, had to try another service.
Been using Maps With Me for a while that provides offline map access. The Maps With Me Pro version has KML import and fortunately My Places has KML export.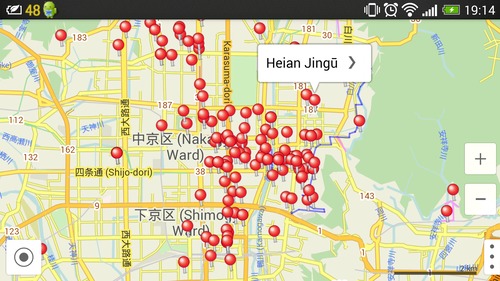 This solved 90% of the issues. Had places with names and details, and path. The pin types don't show up (in Maps With Me all the pins are the same), I guess I'll have to check if they are not included in KML, or something else goes wrong along the way.
Maps With Me Pro is one of the handful Play Store purchases I made, and I think this one totally worth that NT$180 ($6?).
Being able to see the map is good, but it helps if the location is locked on quickly. GPS always takes a while on my phone, and to speed this up, I thought I just run GPS all the way… MyTracks worked for that pretty well, it recorded where we went, and helped to quickly see on Maps With Me as well where we are.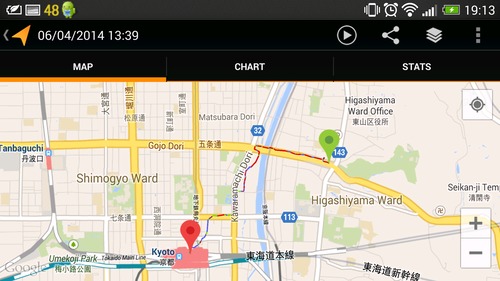 Of course it drains the battery, but being in Airplane Mode and only having the GPS on I could get about 10-11 hours out of the phone, which was okay for the day – provided that I haven't browsed much on the portable hotspot. :)
Photography
Between the two of us on the trip we had 5 cameras (2 cell phones, a compact camera, a DSLR and a GoPro). Based on experience on other trips, it is pretty difficult to synchronize the clocks of all these cameras, so in the end I could have a real timeline.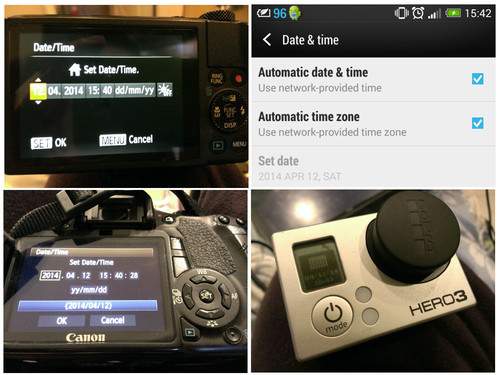 The phone synchronized itself just by connecting to the Japanese cell network for a moment. GoPro was synchronized by the GoPro app. That leaves the other two cameras, that needed manual adjustments, so inevitably there were few seconds differences. It also doesn't help that there's 1h timezone difference between Japan and Taiwan, so had to set the time ahead and back on the plane, so that it will be correct in the local time zone.
It is still troublesome, and neither Facebook nor Google+ handled the time ordering completely correctly in the end when I was uploading the resulting pictures, selected from all devices. Google+ was a bit closer to be correct and could order in a second. Facebook sometimes was very much off and the ordering hung Chrome for a minute or so…
I guess manual processing would work, using a script (used Python for this before but not now) to turn timing information into filename information, then the ordering can be fixed easier and all the platforms handle that. In the same time, I'd love to see whether there's a technical solution to synchronize time across cameras easier. I cannot be the only one who need that.
The phone camera had one more usage. HTC has pretty decent HDR (as point-and-shoot HDR pictures go), and could get a bit better scenes out of the very contrasting light occasionally. Though more often it was the "Overly Dramatic Photoshoot" effect. That's fun too.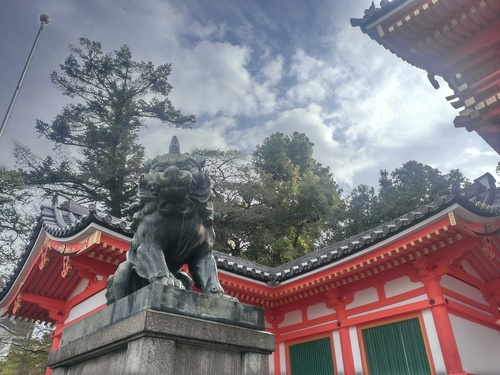 The cell phones were backed up over wifi during the trip, would want to figure out in the future how to back up the SD cards of the cameras as well, without a computer.
Communication
Only used a few times, but it does help to know a bit of Japanese. Tried to find any useful apps in the phrasebook category (that's the lazy student's solution). There were some good ones, but there was a surprising problem: I was looking for shopping related terms, and for every single app, shopping is a premium feature.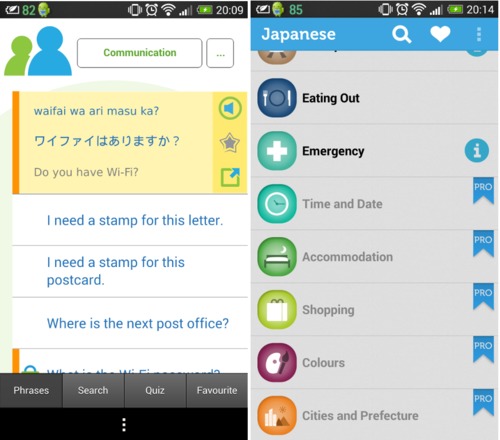 Unlike Maps With Me, I couldn't find any travel phrasebook that I would want to upgrade to pro. So that's all, got along with some English and lots of gestures. For the future I will be looking for some proper Japanese learning app instead of the quick solution.
Airport
China Airlines offered online check-in and also a Mobile Boarding Pass. It's a PDF, and I have saved in Evernote, where I have offline access to it. Supposed to be very handy, though at the very first time it was used by the security at the Taoyuan Airport it kinda failed already: the security guard couldn't scan my QR Code at all. No amount of resizing nor brightness adjustment worked. Holding up the entire queue did make me sad a bit, fortunately the other scanners seemed to have worked.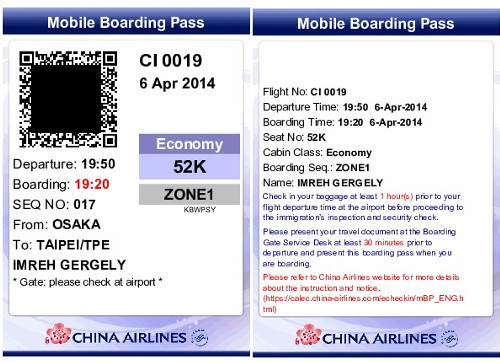 The immigration section of the airport was pretty techy as well. For the last few times I've been using the Taiwanese e-gate immigration: scan the residency permit (or passport for the Taiwanese), step in a little booth, run a facial recognition, if works let you out, if not then do a fingerprint check and continue. For me it's the fastest immigration ever: facial recognition just flashes on the screen and lets me through right away. Probably not that many Western guys in the databases so it's easy to verify me.
Next time
Some of these trick I will like to keep for next time I travel, though I do feel sometimes that technology that supposed to make my life easier and more smooth, when combined with other tech can become overwhelming.
Would love to hear about useful travel tech you are using as well, any suggestions to me?