Since my first (crazy) swing at anything business I consider myself "infected". It seems like that is only a matter of time I start my own venture, for better or worse. It is just too much fun and to difficult to stay out of it.
Challenge
In line with that attitude, now I notice all kinds of related events, and fortunately some of them are in the neighbourhood. So, last Sunday found me at an entrepreneurship challenge – a business plan competition. It was organized by a local startup, Enspyre. It's founder is a serial entrepreneur who started at the age of 15. The company itself also runs an internship program to find interesting/creative people, and I have no doubt that the event was aimed inspiring young people to start something new – which in turn would boost their own business. I say, double-clever!
The audience was quite mixed, of the 25-30 participants more than half was Taiwanese, mostly students in their sophomore and senior years. The rest of it were strange foreigners (your's truly is no exception), from Indian software engineer to Filipino Business majors and American expats. The day was supposed to be learning by doing. First, some current entrepreneurs and VCs present their take on what is a business idea and how a business plan and a pitch comes out of it. Then, in the space of a couple of hours, people would form more-or-less random groups, come up with ideas, refine them, do some numbers of how much capital the idea would need, prepare a pitch, deliver it – and see how it flies with the real VC judges. Most of the people did each and every step of this process for the very first time. Sounds intense? It was and also incredibly stimulating.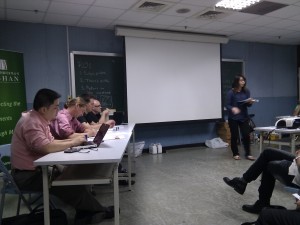 Experience
In the initial "name card exchange" phase I was really slow – or at least slower then the rest of the people. I did want to know a little bit about my potential team mates, so ended up talking more to them than the other (I guess 5 sentences instead of 1). This made me in the end one of the last person to choose a team. That's not a problem, I like random, usually works out brilliantly.
Out of the 5 members, our team had 4 Taiwanese students (2 business, 1 psychology, 1 medical science) and me. The language posed a little bit of difficulty, but I'd say we worked around it pretty well (I came a long way in terms of patience since I started learning Chinese as well). It was pretty amazing to work with them, especially because we all didn't know each other, and that I could resist pushing my own things.
Some lessons learned:
The original business ideas were pretty bad. Many of the better ones were maybe a bit too conventional. On the other hand, when we revisited them, each and every was brainstormed into something I could feel excited about and would be totally happy to start working on. It was absolutely awesome to hear and discuss their ideas, to live through the process. Later talking to some other groups, their ideas just grew but none of them changed substantially upon review. Sign that we had a naturally agile team?
The language barrier is pretty big at the moment. Once one gets beyond that, by either having more patience, communicating even a tiny bit in their native language, or letting them discuss things between themselves for a whole, creativity really shines. There's a lot of potential in this country. (Not that I didn't know that earlier:)
Feedback from VCs, even – and maybe especially – before pitching is invaluable. That is, if I can say my question clearly and concisely enough. And that gave me a duh moment: of course they want everyone to succeed. If your idea/pitch is boring, they are going to waste the time. If there are few creative people then they will have fewer investment opportunities. So it is their very on selfish interest to do everything for you to succeed. Don't abuse it (i.e. make it more trouble for them to help then the potential reward) and you have the best teachers.
It's good to take the back seat sometimes. I didn't push that our group would develop one idea originating from me, but one that more people in the team liked. I had advantage in the language front so pitching wouldn't have thought me much, I insisted that the girl (Ping) who came up with our original idea would do the pitch – regardless of her English. She protested first but in the end I'm sure she liked it. This way she had some awesome experience and I could also see (ie. introspect) how do I listen e.g. to a pitch – even our own. I'm sad to say, that I'm a terrible listener. Got to fix that, and glad I had a chance to realize it.
As we were told multiple times during the day, the team is more important than the idea. After working together for a few hours I can certainly see how that comes into play very-very quickly. The business ideas I had these days lack any kind of consideration who would I do them together with – really should think about who else is in my social circle who I should consider because no matter how idealistic I am, I won't make it completely on my own.
Guess these are just part of what I have realized, the rest of it will probably pop up every now and again in the coming weeks and months.
And now for the punchline: out of the 6 teams we took home the first prize. We came up with an idea that could impress other people who are doing this for a long time (and one of whom were telling us how the salesgirls pamper you much better when buying an Armani suit than at any other boutique – a lifestyle clearly out of my league). Their feedback was that out of the 6 pitches, ours was the one that could be done realistically, on a sane budget, with sane assumptions and might just work! It is an interesting feeling. I want to keep this and continue growing on it. Already started: my part of the bounty for winning went for recovering the entrance fee and "investing" in more resources for my journey ("Technology Ventures").